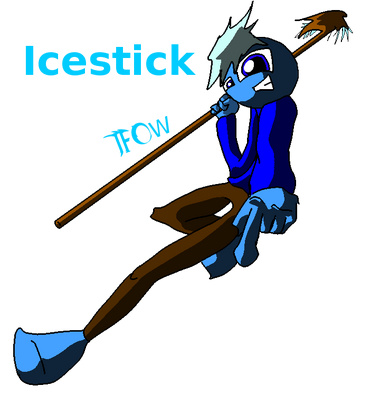 Icestick is a counterpart of Jack Frost and spread winter wherever he goes. He is a member of ? and Guardians.
Character Summary
Edit
Like the original Jack Frost, he was alone for 300 years but his time was alternated when Sticktan sense that he was in danger on the hands of Dark Stick (counterpart of Pitch) by pulling him from his reality to Slusher. Ice refused to come with him but Titan clarified that he can't go back on his world and stuck here forever. He still refuses and find some place to be alone. He then joined Sticktan the other day when he found out that Dark went on the world with the Guardians under his control.
Appearance
Edit
He is light blue stickman and have clothes like the original one (but slightly different). He also have a staff and helps him spread the winter all over the world. He has at least three modes:
Snow mode
Edit
Blizzard mode
Edit
Ultimate Freezing mode
Edit
Abilities
Edit
Can freeze everything in just one touch of his staff
Can travel in lightning speed with the help of his elemental friend (Wind)
Flight
Supernatural Powers
Say "Freeze"!
Freezes the target(s) and give his comrades a chance to attack
Icicles
He will create icicles on the air and controls it like missiles
Snowstorm
This upgrade will unlock his second Ultra-attack
Creates a snowstorm to freeze everything in sight (including his comrades) for 10 seconds.
Blizzard Mode
Icestick will transform into this mode and will creates a blizzard will freeze anyone/anything on his path.
The Fan of Wiki's Trivia
Edit
His real name was Chill "Ice" Recker.
His last name was taken from reckless because he was reckless and causes accidents sometimes.
His rival is Flaming Stick who is his alternate counterpart and one of the ice's weaknesses.
Adoptive son of Nicholas.
Note to readers
Edit
This page is created by The Fan of Wiki. Please ask permission from the owner if you want to edit this page.